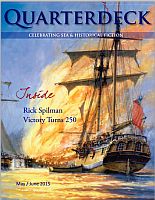 I am very pleased to have been interviewed by George Jepson in the May/June issue of the McBooks Press' newsletter "Quarterdeck."  If you haven't run across "Quarterdeck" you should take a look. (A subscription is free.) This issue includes my interview and a review of my novel The Shantyman as well as an article, Victory Turns 250, by Julian Stockwin. It also includes news of nautical fiction by James L. Nelson, J. D. Davies, Jan Needle, Steve Harrison, John Cahill,  Joseph Heywood, and David Gilman, among others.  Definitely worth taking a look.
Rick Spilman by George Jepson (reposted with permission.)
Rick Spilman resides in a lovely late nineteenth century brownstone on a tree-lined street in Jersey City, New Jersey, just across the Hudson River from Lower Manhattan.
During the period when Spilman's home was constructed, New York Harbor teemed with sailing and steam vessels from around the world. By the early 1870s, the prows and bowsprits of the clippers were common sights along piers in the East River, the area known as South Street Seaport.