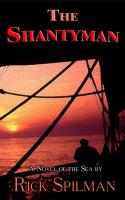 George Jepson's review of my latest novel, "The Shantyman," from the May/June issue of the McBooks Press newsletter "Quarterdeck."
The Shantyman by Rick Spilman  
George Anderson, retired from a lifetime at sea, recalls a voyage from New York to Australia and back in 1870 in the wooden Kennebec-built clipper Alhambra. Anderson was barely seventeen when he signed aboard as an A.B. or able seaman (able to hand, reef and steer).
"Lots of firsts, that voyage," Anderson tells Bill Doerflinger, a young archivist recently graduated from Princeton, who collects sea shanties and stories on a wire recorder. It was the lad's first trip as an A.B., first time sailing in deep water and in seas beyond the Atlantic, and his first raw experiences in water-front dives in exotic foreign ports. Looking back, Anderson relates in vivid detail events which occurred nearly seventy years earlier.
On a blustery winter's day in Sydney harbor, "riding on a short scope, pitching in the chop," a new crew, "as a sorry a lot of gutter sweepings and hard cases as any you were ever likely to find," trudges up the gangway looking anything but like sailors.
The last man is hoisted aboard unconscious in a cargo sling and dumped in a bunk in the fo'c'sle. The drunken seaman is Jack Barlow, previously a shipmaster, who harbors a disturbing past.
Barlow befriends the young Anderson and begins to pull the motley crew together, introducing sea shanties as Alhambra, laden with merino wool, hides and copper, sails into the Southern Ocean and its dangerous ice packs.
Early in the return voyage, Captain Josiah Adams dies and the cutthroat first mate, Billy Conners, mysteriously disappears, leaving Barlow – called "the Shantyman" by his mates – as the only qualified crewman to assume
command.
Navigating through treacherous seas and an Atlantic hurricane, Barlow is bent on sailing Alhambra, her crew and cargo to New York, while at he same time he deals with personal demons.
Based on a true story, The Shantyman is reminiscent of Sterling Hayden's highly acclaimed novel, Voyage, of nearly forty years ago. Rick Spilman masterfully re-creates life at sea under canvas, with an authenticity of one who has trod decks, climbed rigging and understands the vagaries of sail.
Crisp prose, interspersed with sea shanty lyrics, provides a refreshing and intriguing narrative, which is populated with striking, well drawn characters. Along the way, readers gain a sense of America's commercial maritime history in the years following the Civil War. Especially appealing is Spilman's graphic description of New York's South Street Seaport.
This is a splendid sea tale to be read and reread, along with the author's earlier stirring novel, Hell Around the Horn.
George Jepson